I'm Anita Devi and I'm here to walk you through the awakening of your feminine essence. Open your heart, feel free and full of life!
Do you long to live relaxed and open to pleasure? 
Would you like to feel creative and powerful?
My own life experience as a woman and my years as a social educator in international cooperation projects, showed me the reality of women around the world and inspired me to create spaces for women to connect and heal.
Even today, with more than 15 years of training and experience, I am still touched to see the transformation of women and their lives through Tantra, including my own. That is why I have created the Tantrika School for us. 
If you want to be a free woman and live a life of love...
You've come home. 
Welcome to Tantra.
You decide how we can START this journey together I present you my Online Courses program so that you can start on the Tantra path from home and at your own pace. 
Estos Cursos son para ti y puedes hacer uno o todos y hacerlos en el orden o al ritmo que quieras. Cada uno te abrirá un mundo de autodescubrimiento y sanación único. Te recomiendo empezar por despertar a tu naturaleza cíclica y tu sexualidad cíclica, puedes también abrir tu corazón y sanar las heridas del pasado para amarte más y poder amar, o expandir tu capacidad de sentir placer y vivir tu naturaleza orgásmica. Es tu propio proceso de sanación y empoderamiento femenino. Disfrútalo! Ahora MUJER CICLICA esta abierto para ti. Únete! Si, Quiero más Info! The Online Tantra Training for Women is designed to fit your life and your purpose. It is a personal and professional Tantra Training CREATED FOR YOU with all my love.
This process will last a year in which you will complete the first three online modules as part of a community of women like you and with my personal guidance. 
BASIC TRAINING: CYCLICAL WOMAN, ORGASMIC WOMAN, LOVING WOMAN. 
After this personal and collective process of healing and female empowerment that will transform you deeply, you will be ready to support other women to wake up and transform their lives like you, being their Tantrika Coach. If this is your purpose here you will receive your TANTRA COACH certificate. 
If you want to continue to deepen your personal process or if you want to become a Tantra facilitator and organize your own women's circles, classes, courses or face-to-face group retreats, we will continue together in the Advanced Training. 
ADVANCED TRAINING: MAGIK WOMAN / MISTIK WOMAN / TEACHER WOMAN 
This process will last a year in which you will carry out these three online modules as part of a community of women and with my personalised guidance. As a Social Educator, I will offer you my wisdom and experience in accompanying group processes and the pedagogical and logistic tools. You will learn everything you need to create that safe, free and loving space where other women can awaken, free themselves and regain their space and power from the heart. Love themselves and transform their lives. 
The Training ends with a face-to-face retreat where you will live the beginning of your life purpose by facilitating Tantra. We will celebrate the end of the Training and you will receive your certificate as a TANTRA FACILITATOR FOR WOMEN. And you can become part of the TANTRIKA SCHOOL team. 
Would you like me to send you all the detailed information about the "Tantrika" Online Training and personally answer your doubts and questions? Contact me! Would you like me to walk with you through your personal process?
Welcome to my Online Coaching Sessions!
If you can identify with one or more of these statements, the Online Coaching process is perfect for you. Would you like to join my next "Tantrika" Tantra for Women Retreat?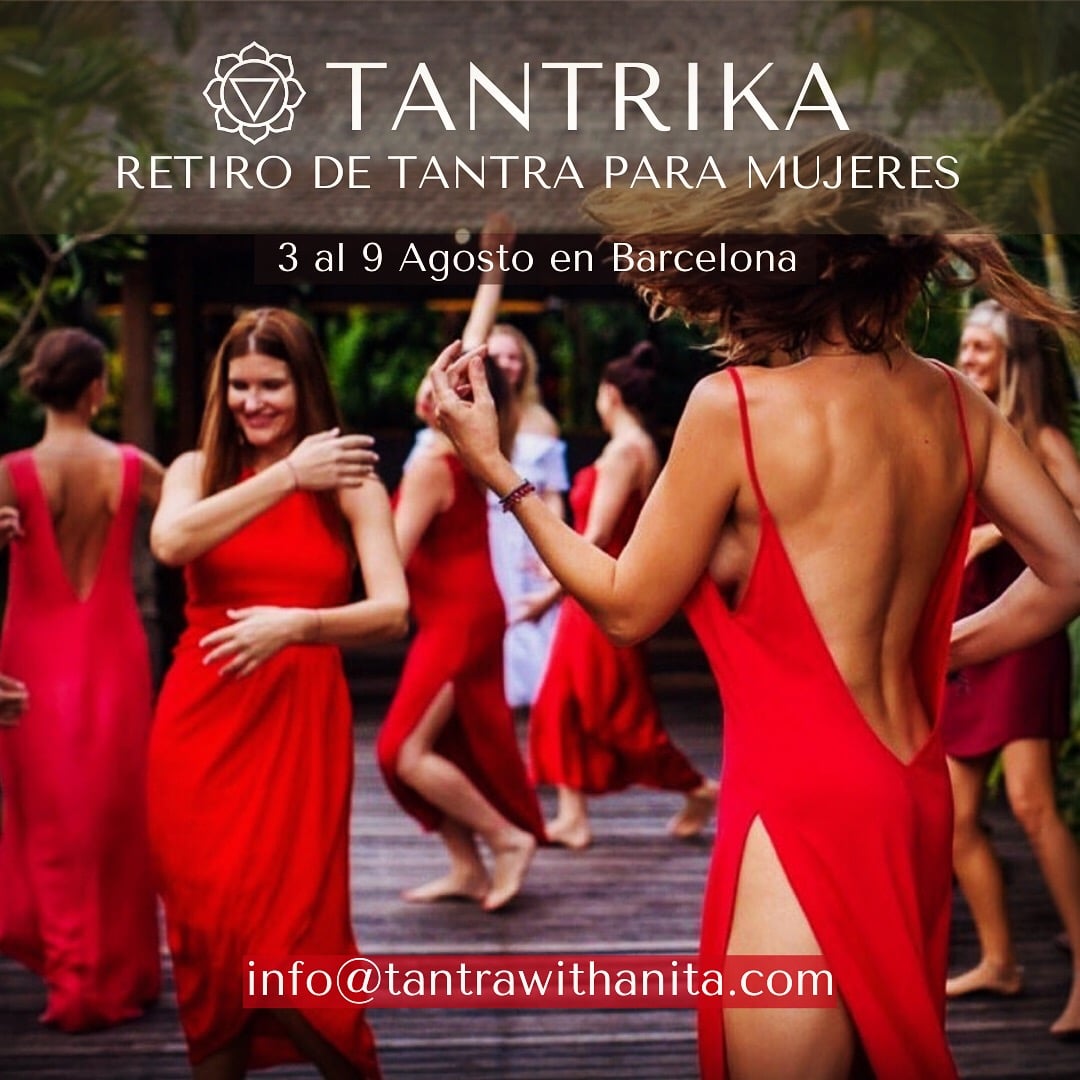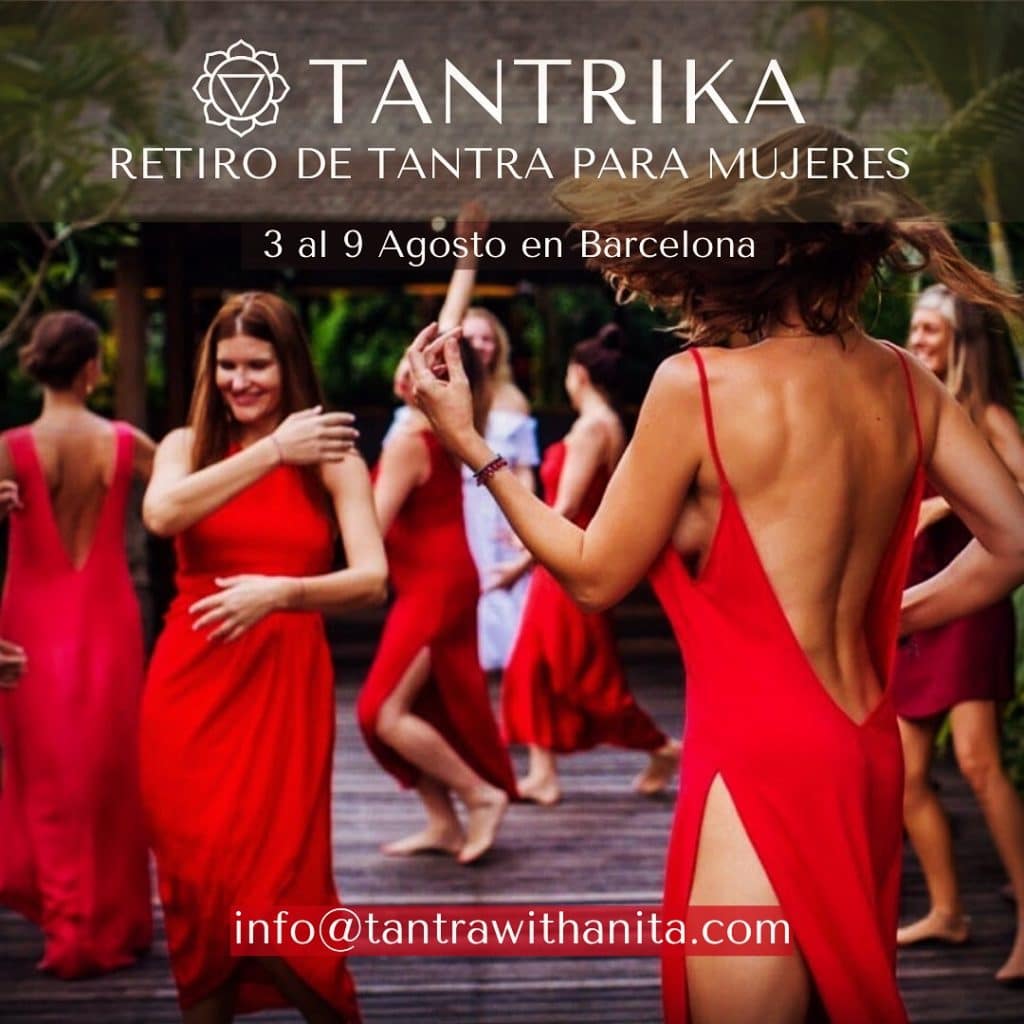 3-9 AUGUST 2020 BARCELONA - SPANISH
TANTRIKA - TANTRA RETREAT FOR WOMEN (OPEN)
Welcome to this Women-only Tantra Retreat where you can awaken to your feminine essence. Discover your Cyclical Woman and your Cyclical Sexuality. Begin your process of Self-Love, Healing and Feminine Empowerment. And connect with the power of your heart, your womb and your pleasure. Last spots available! More Info
The Moon Mandala has turned out to be a tool that, without realizing it, has been accompanying me every day for 5 months now. I love gifting myself that space of listening and self-love every morning, and it has helped me to observe and get to know myself in a way that I didn't know was possible. THANK YOU!
I can say that with the help of this course, today four empowered goddesses live inside me. I feel that this is just the beginning and I am so excited!
With Anita, I feel that there is always an invitation to remember "the game" of enjoying life, remaining rooted even when the currents are strong. Allowing yourself to be open to the present moment, trusting that spontaneity will awaken whatever is real right now, and you will be present in it.
Ella es una mezcla fantástica de gran conocimiento y profundo cuidado humano. Hay algo extraordinario cuando se trata de Anita, el saber cómo ayudar a otras mujeres y relacionarse con ellas, con su sufrimiento, sin entrar en las historias sino simplemente con su presencia enraizada, y enseñarte las herramientas para alcanzar tú también una presencia más enraizada.
Feels a big YES inside her heart.

Listens to her own truth and respects herself
Accepts herself just as she is
and doesn't go against herself.
Knows her cyclical nature
and accompanies it with love.
Discovers herself a woman every day.
Is brave and not afraid of life.
Forgives herself and others.
Embraces her light as well as her darkness.
Plays with her inner child.
Flows in life with grace and confidence.
Enjoys experiencing herself fully.
Doesn't need to define herself.
Jumps into the unknown.
Loves her own body.

Protects her temple.
Honors her animal and divine nature.
Celebrates her inner feminine and masculine.
Lives a conscious sexuality.
Inhabits her orgasmic nature.
Heals her wounds.
Breathes into her pain.
And expands in compassion.
Makes her life a meditation.
Laughs for no reason
and becomes her smile.
Love.
Free.