Soy Anita Devi y estoy aquÍ para acompañarte a despertar a tu esencia femenina. ¡Abrir el corazón, sentirte libre y llena de vida!
¿Anhelas vivir abierta y relajada en el placer? 
¿Te gustaría sentirte creativa y poderosa?
My own life experience as a woman and my years as a social educator in international cooperation projects, showed me the reality of women around the world and inspired me to create spaces for women to connect and heal.
Even today, with more than 15 years of training and experience, I am still touched to see the transformation of women and their lives through Tantra, including my own. That is why I have created the Tantrika School for us. 
If you want to be a free woman and live a life of love...
has llegado a tu hogar…
Welcome to Tantra.
You decide how we can START this journey together I present you my Online Courses program so that you can start on the Tantra path from home and at your own pace. 
Estos Cursos Online son abiertos y puedes hacer uno o todos, y al ritmo que tú quieras. Cada uno te abrirá un mundo de autodescubrimiento y transformación personal único. Este Enero 2021 la TANTRIKA SCHOOL abrirá las inscripciones de MUJER CICLICA. Un viaje de autoamor, sanación y empoderamiento sexual femenino a través del Tantra y del Ciclo Menstrual. 
EN MUJER AMOR haremos un viaje al corazón, de consciencia emocional, sanando heridas para abrirnos al Amor y vivir sin miedo. En MUJER ORGASMICA disfrutaremos de nuestra sexualidad femenina expandiendo la capacidad de sentir placer y vivir nuestra naturaleza orgásmica.      ¿Quieres empezar tu camino en Tantra? ¡Únete a MUJER CICLICA! ¡Si, Quiero más Info! Diseñada para adaptarse a tu vida y tu propÓsito
Es una Formación personal y profesional de Tantra CREADA con todo mi amor PARA VOSOTRAS
Esta es una Formación personal y profesional a la vez y está diseñada para que se adapte a tí, tus necesidades y tu propósito. La formación básica incluye los tres primeros módulos online formando parte de una comunidad de mujeres como tú y con mi acompañamiento personalizado.
Módulo 1 MUJER CÍCLICA. 
Módulo 2 MUJER AMOR.
Módulo 3 MUJER ORGASMICA 
Cada Módulo es independiemte y su contenido es diferente, por eso estarán abiertos siempre sin que tengas que seguir un orden o comprometerte a la formación completa. Después que termines cada uno recibirás un certificado de ese Módulo, la posibilidad de hacer prácticas y de empezar a compartir los contenidos aprendidos ya con grupos de mujeres y también de forma individual como Coach Tantrika. Para la Formación Básica completa (3Módulos) habrá un Certificado especial de Formación en Tantra para Mujeres de la TANTRIKA SCHOOL. 
Si quieres seguir profundizando en tu camino personal y en el Tantra he creado la Formación Avanzada. Si tu propósito profesional es organizar tus propios círculos de mujeres, clases, cursos o retiros presenciales para grupos y seguir ofreciendo sesiones de Coaching, te recomiendo seguir juntas en la Formación Avanzada. Como sabes, Tantra es un camino para despertar a tu esencia, consciencia y amor. Y requiere de tiempo. Yo misma llevo más de diez años en Tantra y me sigo formando. No es algo que suceda en tí sólo por aprender unas técnicas o meditaciones, sino por una transformación personal profunda liberandote de tus miedos, condicionamientos, limitaciones, etc…Abriéndote a algo nuevo.
La FORMACION AVANZADA incluye:
Módulo 1 MUJER MAGIKA
Modulo 2 MUJER MISTIKA
Modulo 3 MUJER MAESTRA
Como Educadora Social, te ofreceré mi sabiduria y experiencia en acompañar procesos grupales y las herramientas pedagógicas y logísticas. Aprenderás todo lo que necesitas para crear ese espacio seguro, libre y amoroso, donde otras mujeres puedan despertar, liberarse y recuperar su espacio y su poder desde el corazón. Amarse y transformar sus vidas.
The Training ends with a face-to-face retreat where you will live the beginning of your life purpose by facilitating Tantra. We will celebrate the end of the Training and you will receive your certificate as a TANTRA FACILITATOR FOR WOMEN. And you can become part of the TANTRIKA SCHOOL team.
Quieres toda la información de la Formación Online de Tantra para Mujeres TANTRIKA y que responda personalmente a tus preguntas. Would you like me to walk with you through your personal process?
Welcome to my Online Coaching Sessions!
If you can identify with one or more of these statements, the Online Coaching process is perfect for you. ¿Quieres venir a mi próximo Retiro de Tantra para Mujeres?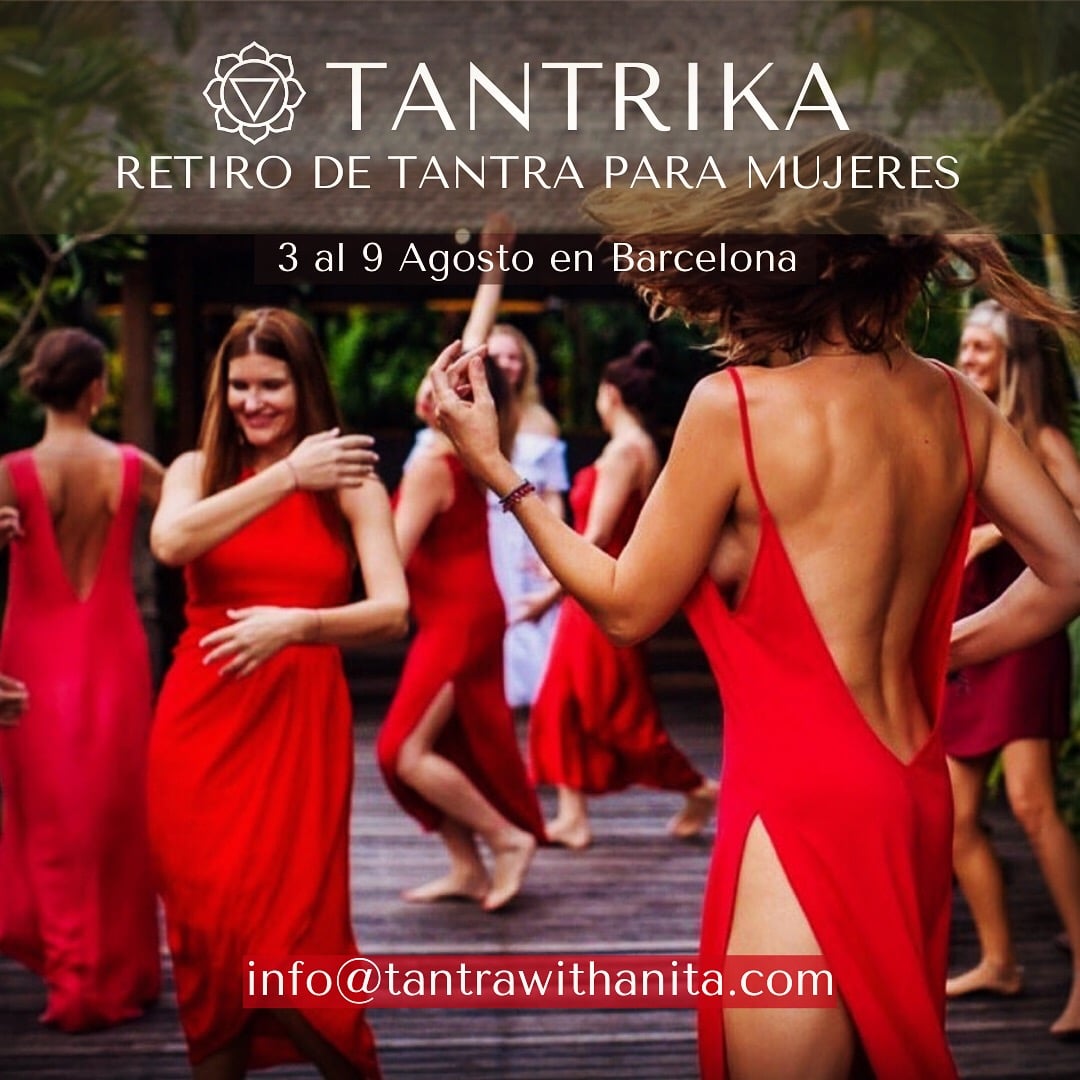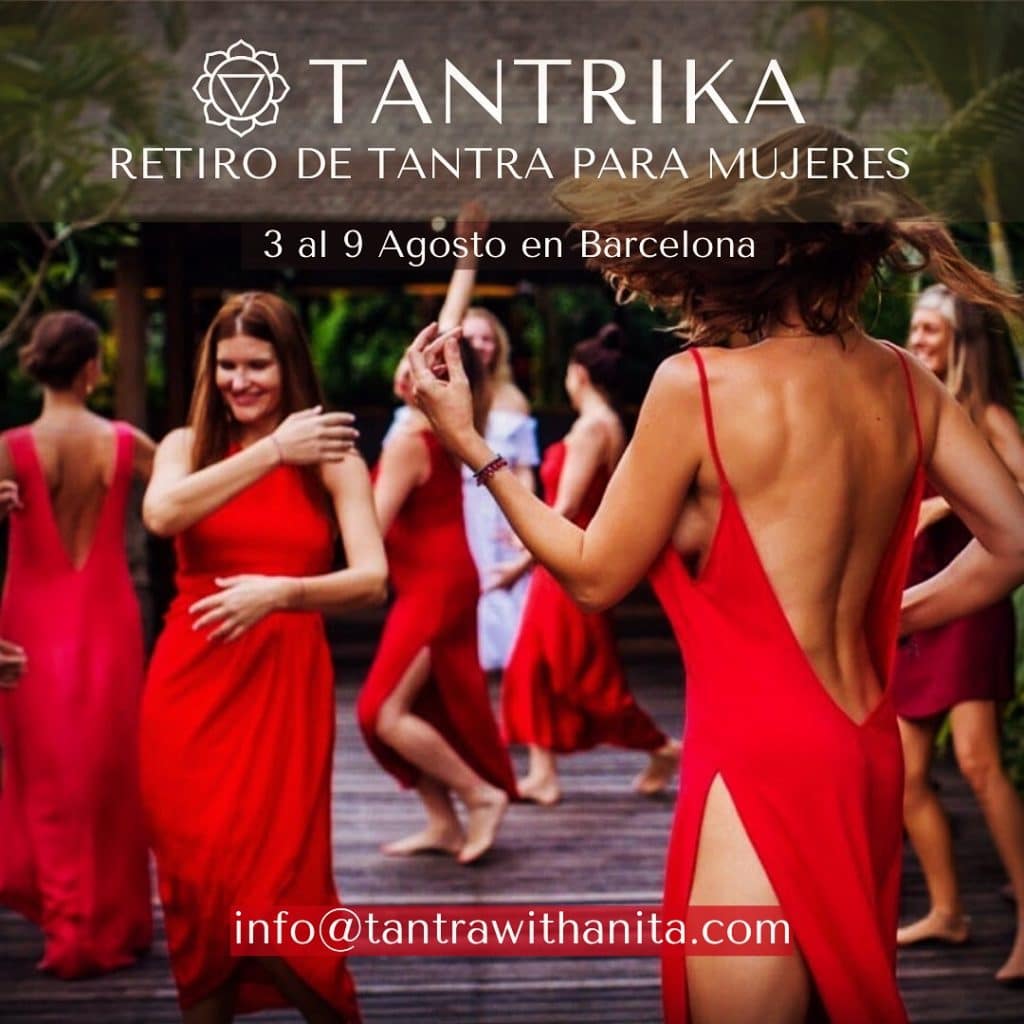 3/9 AGOSTO 2020 BARCELONA ESPAÑA
TANTRIKA - RETIRO DE TANTRA PARA MUJERES
¡A mi también me encantaria conocernos y compartir en tribu de mujeres! Pero como sabes, en este momento no está permitido hacer retiros presenciales. 
Únete a mi lista de correo y recibirás la información de los próximos RETIROS DE TANTRA PARA MUJERES VERANO 2021. Mientras tanto, no te pierdas mis Cursos Online de Tantra para Mujeres. Empezamos en Enero 2021 con Mujer Cíclica. 
The Moon Mandala has turned out to be a tool that, without realizing it, has been accompanying me every day for 5 months now. I love gifting myself that space of listening and self-love every morning, and it has helped me to observe and get to know myself in a way that I didn't know was possible. THANK YOU!
I can say that with the help of this course, today four empowered goddesses live inside me. I feel that this is just the beginning and I am so excited!
With Anita, I feel that there is always an invitation to remember "the game" of enjoying life, remaining rooted even when the currents are strong. Allowing yourself to be open to the present moment, trusting that spontaneity will awaken whatever is real right now, and you will be present in it.
Ella es una mezcla fantástica de gran conocimiento y profundo cuidado humano. Hay algo extraordinario cuando se trata de Anita, el saber cómo ayudar a otras mujeres y relacionarse con ellas, con su sufrimiento, sin entrar en las historias sino simplemente con su presencia enraizada, y enseñarte las herramientas para alcanzar tú también una presencia más enraizada.
Feels a big YES inside her heart.

Listens to her own truth and respects herself
Accepts herself just as she is
and doesn't go against herself.
Knows her cyclical nature
and accompanies it with love.
Discovers herself a woman every day.
Is brave and not afraid of life.
Forgives herself and others.
Embraces her light as well as her darkness.
Plays with her inner child.
Flows in life with grace and confidence.
Enjoys experiencing herself fully.
Doesn't need to define herself.
Jumps into the unknown.
Loves her own body.

Protects her temple.
Honors her animal and divine nature.
Celebrates her inner feminine and masculine.
Lives a conscious sexuality.
Inhabits her orgasmic nature.
Heals her wounds.
Breathes into her pain.
And expands in compassion.
Makes her life a meditation.
Laughs for no reason
and becomes her smile.
Love.
Free.